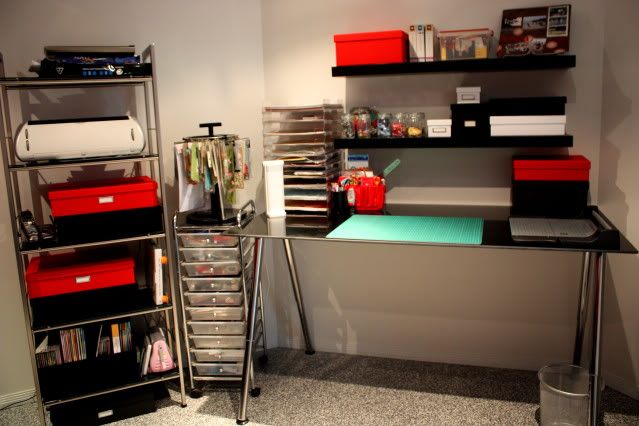 Hi Everyone
Hope you are staying dry somewhere!
I just thought I would pop by and give you a look at my new scrapping area at home and the things that I just can't do without when completing layouts or cards.
One of the best things I ever purchased was my "Clip It Up" you will notice it in the photo with embellishments hanging from it. It is fantastic because it means that my new supplies (and some older ones too) are readily accessible and easy to see. You just hang your items with small clips and you can turn it around like a Lazy Susan.
Another thing you might see in my photo is my Cricut. I am so glad now that I can have it out of the box ready to use. Before I had to store it away in a cupboard and it was always such a hassle to to use. I can see my bank balance dropping shortly as I add to my collection of cartridges.
The other thing that was in its box was my Cuttlebug - I can't wait to purchase some Spellbinders and one or two or three of the Tim Holtz dies.
Last but my no means least, is my Making Memories Precision Trimmer - just the best trimmer on the market by far and you won't ever have to buy new blades as it is self-sharpening.
Even if you don't have a new space like I do, giving your current one a tidy up and organise will help you to see some things that you may have hidden away and forgotten about! I sorted through all my supplies - there was alot - and gave some to my daughter who is 9 and really getting into scrapbooking.
I will be back later in the week with some more tips.
Michelle