Hi everyone - Zoe here to share a layout with a cute new collection that's just arrived from CHA in store!
The School Spirit collection from Crate Paper
is so cute, and is awesome for little boys whether they're school age or not! The colours in this range are to die for and made my page come together so easily... I will be using this collection for many more boy projects, I'm sure!
The range has a bunch of cute papers which make it perfect for paper-piecing your own embellishments... I was stuck on the best way to do the "Little" from the title (and I had run out of my alphabet stickers LOL), so I thought the bunting together with some basic twine would make an unusual and sweet title idea.
There's also a really cute paper with little bits and pieces you can cut out to make your own embellishments, and the accessory sheets and chipboard pieces are great too!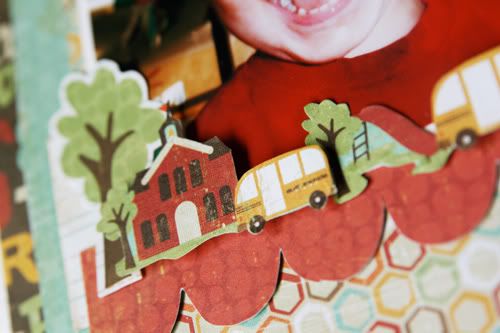 For the title, I used American Crafts Thickers - "Giggles" and the wonderful mini alphabet stickers from the Basic Grey "Basics" range, all available in store at Scrapbook City!
That's it from me for now, but I hope you all have a great week :)