...with flowers and stuff! Welcome to a bright and sunny Monday morning (well for now anyway!). Which is doubly great for me as our home renovations are due to start today and now they can because the weather is playing nice!
So I thought I would come back and tell you a little about the fun things I did on my colour challenge sample. Firstly I have used the tattered floral die again with some of the glorious glitter paper from Best Creations. This glitter paper has some strength to it also so it can be "shaped" and it will sit well, it also cuts beautifully with this die. Once cut I curled my petals up hich gave some dimension then layered them and finished with a pearl in the centre. There are only two or three layers on these flowers, so they are really quick and easy to make!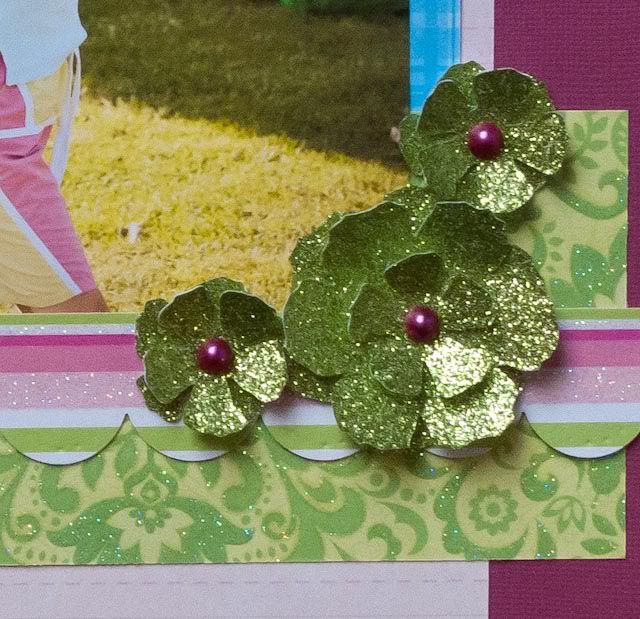 The little yellow flowers are hand crocheted using cream cotton (only took about 5 minutes to make) and then sprayed with Wild Honey distress re-inker to colour them! Then I used my Slice with the Fonts Essentials card, to cut my title from plain smooth cardstock and I used Copic markers (be warned these "colouring pens" are addictive!!) to colour the title to match my page. I used two colours, a lighter yellow (Y15) as a base and then a darker one (Y17) to create some shadow and depth to the letters.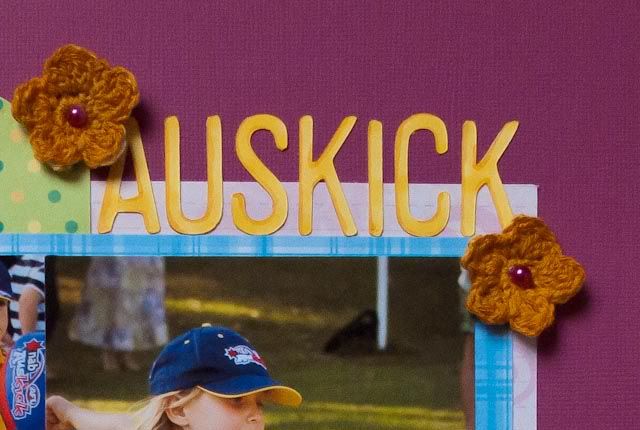 So with a few key tools and a little know how I have coordinated my embellishments to my page by making them myself!
If you are handy with a crochet hook there are lots of free patterns on line you can download and use to create your own flowers and remember make them in white or cream and colour them to match your project with re-inkers or mists! You could probably even colour them with your Copics (...now there is something I will have to try myself...)
Thanks for stopping by and catch you next time.