Here is the Layout of the Week! But before I begin can I just ask you a question....do you think the year is flying by too fast also??!! I can't believe we are sitting on the tails of Easter and then shortly after that the end to the first school term. All I can say is no wonder I am exhausted!
But, you know what it really means? In five minutes time (well that is what it will feel like!) we will be getting out those Christmas products and making cards and gifts for Christmas, again!
Anyway, back to the Easter talk, have you ever thought of scrapping what Easter means to you? That is what I have done in this layout. For me Easter is enjoying the best Hot Cross Buns I have tasted...my own of course! (and I am sure if you tried one you would agree!!! LOL!!). So enjoy this layout and have a think about what you could scrap for Easter this year that maybe you haven't thought about.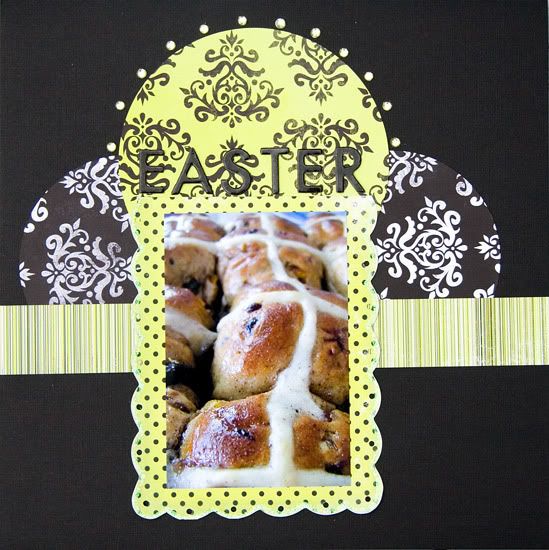 1 4x6 portrait photo
Kaiser Craft Sublime paper
Majesty - Cut a rectangle about 5.5" x 7"
Divine - Cut three circles, one 15cm across and two 12cm across
Outrage - Cut a strip 12" x 1.5"
Kaiser gems - Light Green
Bella Chipboard letters - black Kindy Glitz
EK Success corner rounder (for creating the scallop)

1. Place the two smaller circles black and white side up about half way down the page and to the left side with a gap between them.
2. Place the larger circle green side up between and above these smaller circles about 3/4" from the top.
3. place the stripey strip across the bottom of the smaller circles.
4. Scallop the edges of three sides of the green spotty recatangle and trace these edges with Kindy Glitz if desired. Add your 4x6 photo to this piece.
5. Place the matted photo longways on the circles roughly lining up with the larger green circle.
6. Add your title across the top of the photo.
7. Space some of the larger gems around the larger green circle.