A new week begins and it is time to show you our layout of the week! This week the layout was created by Michelle, thanks Michelle! (click on the image and it will take you to the shop)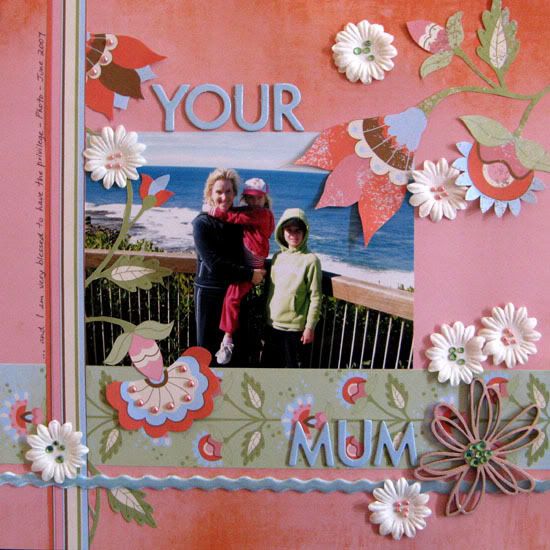 Materials:
Kaiser Craft-
Imagine papers – Suppose, Ponder and Wonder
Wooden Flower
Pink Pearls
Green Rhinestones
3.5cm Cream Flowers

Bella Blue Chipboard Letters
Blue Velvet Ric Rac
Making Memories Specialty Glaze Pink


1. Cut flower from your Suppose patterned paper.
2. Cut green strip from your Wonder patterned paper. Also cut the striped strip that has flowers attached to it. Cut around the flowers while leaving attached to striped strip.
3. Paint your wooden flower with the pink glaze and put aside to dry.
4. Use your piece of Ponder paper as your backing sheet.
5. Attach your green strip to your paper approximately 2" from the bottom of your page.
6. Attach your photo approximately 2" in from the left-hand edge of the page.
7. Attach your striped strip with cut out flowers with the striped strip flush with your photo. Attach some pink pearls on top of the spots on the flowers.
8. Attach a piece of blue velvet ric rac across the page approximately ¼" down from your green strip.
9. Stick down your large flower in the top right hand corner.
10. Stick down the "your" of the title on top of your photo
11. Take six cream flowers and put green rhinestones in the centre of three flowers and pink pearls on the other three. When your wooden flower is dry, stick it down partially on your green strip and partially over the ric rac in the bottom left hand corner. Now you can stick down all of your cream flowers.
12. Stick down the "Mum" of your title next to the wooden flower.
13. Finish with some journaling on the left hand side.