I'll start by saying that I have read Ali Edwards' other books and enjoyed them greatly, so I was most interested when Life Artist was released. But, I am sure like some of you, the title made me a little hesitant. I mean, "Life Artist" that's just a little bit prentious right??!!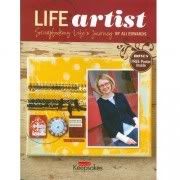 Well, I was lucky enough to receive a copy of the book anyway. I say lucky because I beleive this is her best book yet. The more I read the more I enjoyed what I was reading and the more inspired to create I became. This book is not about scrapbookers proclaiming themselves as artists, well not entirely! It is about getting back to creating for the love of creating. It's about learning to let go of the "shackles" that may be holding you back and saying "it is ok" to create the way you want to and to create just because it makes you happy. It's about focusing on capturing your life in a creative way.
In fact the first chapter is titled "It is ok". A whole chapter to tell you 'It is OK' to "let go" of feeling there is a right and wrong way to scrap, and 'It is OK' to repeat what works for you. If you find a design, style or element that really works for you, don't be afraid to use it again and again.

Other chapters cover things like "going with the flow", "simplifying" and "embracing imperfection". As you can see lots of positive ways to embrace what you do and also to enjoy what you do without feeling guilty or that you have to live up to anyone else's requirements or standards. I guess it is like the Nike catch phrase - "Just Do It", this is what we all need to remind ourselves of sometimes!!
There are plenty of inspiring challenges along the way and plenty of fantastic examples too. Ali writes in a way that is easy to read and feels just like she is having a conversation just with you. In a nutshell, this is one of the best books I have read recently and it really did inspire me and made me want to drop everything and just create or at the very least play and experiment.
Now, hopefully I have inspired you to want to get your hands on a copy of this book! To make the idea even sweeter, the first person to buy a copy from the shop and come back here and post a comment with thier order number will score two of the great Foz Felt ribbons from Kaiser Craft. Can't get much sweeter than that!
Have you seen the great new Fozz Felt ribbons from Kaiser Craft?? They are gorgeous, with beautiful butterfly designs, flowers and stars in lots of great colours too. Here are a couple of samples:






It is a little hard to see the detail, but the butterfly pattern (the green example above) is so sweet!

We have also have the KI Memories Pop Culture collection in store and this is very bright and funky. This range includes lace cardstock, stamps ribbons and much more. Go and have a look here and see what I mean!

So have you been bidding for the Cricut in the reverse auction??? The bid's are coming in thick and fast and it is anyone's guess as to what the lowest unique bid might be! I guess that is part of the fun of playing!! Remember to check out the shop here if you want to place a bid. You can also place your bids in store if you are lucky enough to live near the "real" shop!

A bit of house keeping - As seen on the Summer Newsletter, Ang's Love Wall Hanging class scheduled for 31st Jan will now be held on Thursday 7th Feb at 10:30am. If you are interested in this class give the shop a call and book your place!

Thanks for popping by and remember feel free to drop a comment when you are here!